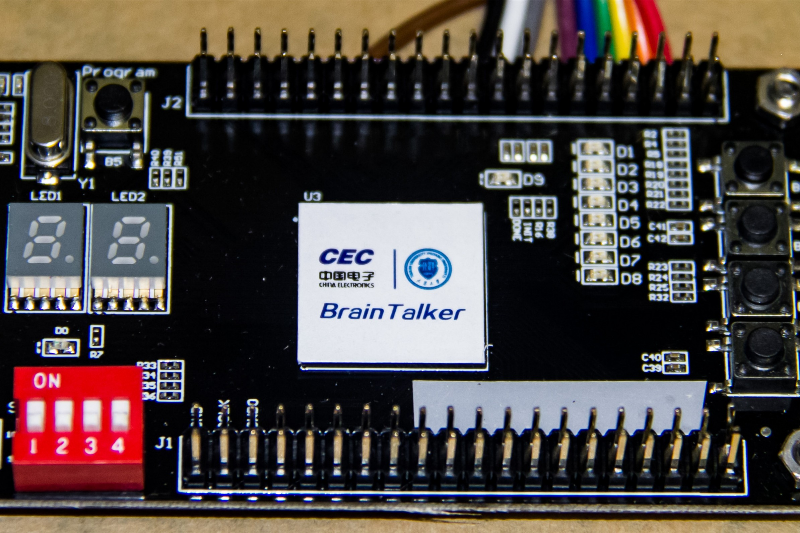 The world's first Brain-Computer Codec Chip (BC3), Brain Talker
  The world's first Brain-Computer Codec Chip (BC3), Brain Talker, was announced on May 17, 2019, during the 3rd World Intelligence Congress at Tianjin. The Brain Talker was a joint effort of Tianjin University and China Electronics Corporation with fully independent intellectual property.
  This BC3 chip was specially designed to improve the Brain-Computer Interface (BCI) technology, which aims at decoding a user's mental intent solely through neural electrical signals, without the use of the human body's natural neuromuscular pathways.
  "The signals transmitted and processed by the brain are submerged in the background noise. This BC3 chip has the ability to discriminate minor neural electrical signals and decode their information efficiently, which can greatly enhance the speed and accuracy of brain-computer interfaces," explained Dong Ming, Dean of the Tianjin University Academy of Medical Engineering and Translational Medicine.
  Today, with advanced technologies in integrated circuits and computational neuroscience, BC3 was developed with a portable size, more precision in decoding, higher efficiency in computing and faster communication ability, compared to the traditional decoding devices.
  Ming added, "Brain-Computer Interfaces hold a promising future. The Brain Talker chip advances BCI technology allowing it to become more portable, wearable and accessible to the general public."
  "As we continue to endeavor to enhance the performance of the "Brain Talker", one day BC3 will contribute to medical treatment, education, self-discipline, security as well as games and entertainment," said Cheng Longlong, a data scientist from China Electronics Corporation.